Projects are grouped into four levels:
EXPOSURE

,

ENGAGE

,

ENGLIGHTEN

and

ENCOURAGE

. The grade level for each activity is listed in parenthesis, but many can be differentiated for different grade levels if needed. If you have never worked with the MFL before, please focus on the exposure activities. If you have any questions, please contact us.
Exposure
These projects introduce students (and teachers) to the technology available in the Mobile Fab Lab and possible to the design process. These projects are mostly a one hour or one day project. They can connect to the content you're covering in your classes, or act as a stand alone activity.
Trees through the Seasons (K-2)
This is a perfect activity for younger students K-2! Students begin by talking about seasons and how they effect the leaves around us! This art and science lesson allows students to color leaves for all season and create a Laser Cut tree to glue their leaves to!
Make your own Puzzle! (3-8)
This can be done with students of any age PreK to seniors! They can decorate a piece of wood any way they want using markers and then we will laser cut it into pieces.
Alphabet Magnets (K-2)
Students will learn about the Epilog Laser cutter as they see the letters cut out from wood! Next the kids can decorate the magnets with paint or markers or decoupage pictures of items that begin with that letter! Great for phonics!
Laser Cut Holiday Decorations (K-3)
This activity is great around the holidays but can be adapted to create other shapes as well! Students create a 3d stand up shape from laser cut pieces and can decorate them using glue and glitter!
GIK KITs (K-3)
GIK (Great Invention Kit) is a great way to introduce kids to a laser cutter and get them making things! These small cardboard pieces can be thought of as a different version of Legos. Students get to see a GIK Kit get laser cut then let their imaginations run wild as they create little mini inventions of their own and can take a GIK Kit home with them!
Create your own Mask (2-8)
This activity can be done with students of any grade! After learning about a different culture students can decorate their own mask! This could also be done with the 'design your own super hero' activity!
Bird Flyers (2-5)
Students can experiment with different wing and tail options to make their customized bird flyer. A great introduction to the laser and scientific method!
Straw Rockets (3-8)
Students build their own mini rocket out of a straw, paper wings, tape and clay. After launching the rockets students get to experiment to try to get their rocket to go further! This activity can be done in an hour or can be part of up to a week long exploration into rockets!
Penny Race Cars (3-8)
In this exposure activity, students get to experiment with different weights and wheel sizes for their race cars. They can collect data to later analyze and determine how different variable effect the car. The MFL team has a large race track for the experiment!
This activity is also an intermediate design activity, see below.
Alebrijes or Mythical Creatures (3-8)
This awesome cross-curricular project starts with students exploring the ancient mythology of the Sphinx. Next they get to create their own mythical creature by combining different animal parts. They then get to invent a name for their creature and write a myth or fable with their creation as the central character. Extension Lesson Plan
Paper Circuits (3-8)
Paper circuits are a great way to get kids thinking about science and how electricity works! This workshops allows students to learn about circuits and make their own light up paper circuit with copper tape, and LED, a 3V battery and a binder clip! Can also be made into light up pop out cards!
Robot Keychains (3-8)
Robot Keychains is a great little activity to get students excited about making and learning about cool technologies! Students learn about Laser cutting and practice fine motor skills as they create a little robot keychain of their own! The Robots can be customized for your school or event!
3d Printing- Mini Keychain (3-8)
This activity is an introduction into 3D modeling and printing. Students use Tinkercad.com, a great free website, to tinker and design their own keychain with their name on it! We will bring a 3D printer to your classroom so students can see how they work and 3D print a keychain for every student in the class!
Engage
These projects allow students to use the technology in the Mobile Fab Lab and do a small amount of design work. These projects are mostly one to two day projects that should be done by a teacher who has some experience with the MFL.
Foam Gliders (3-8)
Students can do a quick design to create their own glider template that we will laser cut and decorate. Kids can then compete to see which glider has the best flight path and if time permits, iterate on their design.
Wind Turbine (3-8)
Students will experiment with different paper blades to determine which shape creates the most energy. This is a GREAT activity for any alternative energy or sustainability unit! The Wind Turbine activity can be expanded to include laser cutting – students can digitally design and fabricate their own blades!
Silhouettes (3-8)
In this art activity students will take a photo of their profile and use technology to laser cut their profile out! This can be a great activity to do around the holidays to give away as a gift!
Press Fit Boxes- Tissues, Piggy Banks, Journals, Dreams (3-8)
This is a design activity. Students will use MakerCase to create a pressfit box then will design its purpose- it could be a cover for a tissue box, a piggy bank, or a secret keeper for them to record their dreams or a journal! Students can then decorate the box anyway they'd like!
Make our own Map! (3-8)
In this activity each class will make one BIG make of the USA! Each student will be assigned 1 or 2 states and will have to become an expert on that state. They can write and or draw on the back of the wooden pieces facts like, the capital, state flower, largest industry, etc. Everyone in the class is engaged and learning and together they will know a LOT about the whole country.
Marble Maze (6-8)
Students will design and create their own marble maze using the laser cutter and mathematical thinking.
Vinyl Cut Decals (3-8)
Students can design and create personal stickers for lockers, cell phones, or books. Or they can work together to create a logo for a project or school group or team. This machine can also be made to make t-shirts or large decals for walls or windows!
Laser Cut Lanterns (3-8)
Students will think about silhouettes and shadows before designing their own lantern and creating it using the laser or paper cutter.
Laser Engraved Journals (3-8)
Students can personalize a leather book cover. These small books can be used as a journal, or students can write and illustrate their own story and create a hardcover to match the story. Titles, images or photos can be engraved on the cover.
Tessellations (4-8)
Students will learn about tessellations and MC Escher before making their own tessellating shapes by hand. The activity can continue by digitizing the design and laser cutting tessellations.
Creates a Snowflake or Mandala (4-8)
Students learning about symmetry in math or weather in science can create interesting designs using an online program and use the laser to cut them out of paper or wood.
Make your own T-Shirt (5-8)
This is a great activity for a club or sports team or for individuals. Students can use our Vinyl Cutter to design their own t-shirt and make a template. Next they use the template and screen printing materials to create their own shirt!
Learn More Here
Laser Cut Magnets(5-8)
Students can design there own image, or we can scan pictures to laser cut magnets! These are great for a classroom management tool! Students can create any design they like, or as a separate project teachers can have them design a logo for the class
3D Models (3-8)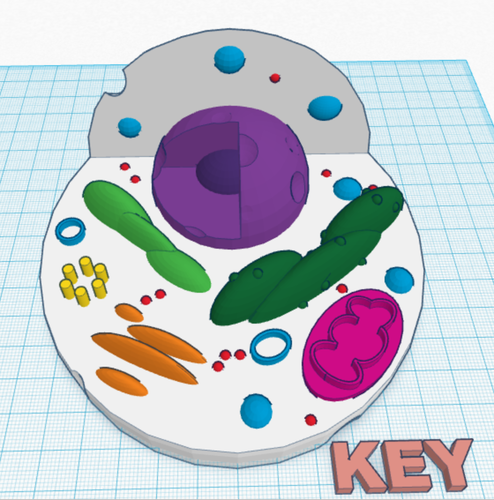 Students can create a model of a plant and animal cell using 3d modeling or 2D design software that can be fabricated with the 3d printer or the laser cutter.
Can also make 3d printed cultural artifacts, tools, trophies, etc. Can be adapted for any subject area. (these projects take multiple visits to design and can take weeks to print)
LEARN MORE ABOUT 3D PRINTING PROJECTS HERE
Variable Penny Racer (3-8)

In this design project, students first experiment with existing racers by placing penny weights in the top slots of the car and with different wheels. They then get to create their own designs to 3d print and race.
Hamster House Design (3-8)
This activity is great forany class that has a class pet! Students work together to decide on parameters for their design and digitally design their own Hamster House to be 3D printed! A great activity for grades 4-8!
Design a Bird House (3-8)
This activity walks students through the process of a simple sketch, to a precision blue print drawing and allows them to design a bird house. Students will digitize their blue prints to create a cardboard prototype and go through the iterative process before creating a word bird house that can be painted and hung outside the school!
Shadowbox (5-8)
Art or Literature students can design a scene in multiple layers to be cut with the laser. This can be done with a specific culture, time period or book in mind.
Encourage
These project is not highly defined. Instead, students are encouraged to use DF to create an artifact of their knowledge and or demonstrate their learning. These projects are rare for MFL and are more appropriate for a classroom setting with a teacher who is familiar with maker education and the fab lab machinery. These projects may take weeks while the DF part may be a large or small part of the work
Game Design (5-8)
This is a more involved activity that is best done over a few weeks with students grades 5-12. Board games are very fun and easy to play, but some are much more complex than we realize! This activity allows students to deconstruct their favorite game before designing their own! We can laser cut the game board and 3D print the pieces!
Accessory or Product Design (5-8)
For this project, students will identify a product that they need or can improve on to design, create and market. This project can be highly differentiated based on the grade level, content focus and teacher. Students can create prototypes, business plans, logos, marketing materials and more!